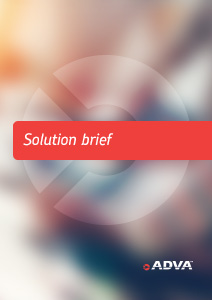 IBM Cloud Satellite and ADVA Ensemble Connector
IBM recently launched its Cloud Satellite offering, giving customers the ability to harness a distributed cloud environment and empowering them to run their workloads in the ideal location for latency, security, bandwidth and data sovereignty. And with our Ensemble Connector network operating system and hosting platform, IBM Cloud Satellite couldn't be simpler to deploy, operate and manage.
Ensemble Connector's operational features include zero-touch provisioning, support for wired and wireless deployment models, and maintenance features that make it easy and efficient to roll out edge cloud applications at scale. With our Connector software, all the required communications functions can be implemented as VNFs running on a standard server. These can be drop-shipped to the end site, with no pre-configuration required.
Find out more about IBM Cloud Satellite and how it delivers the flexibility and security to bring cloud capabilities to where client data resides. Read more about how our Ensemble Connector is optimized for networking, operations and choice at the edge of the network. And discover how our partnership ensures end users can depend on the same telecom resiliency they're used to while enjoying all the benefits of the cloud.