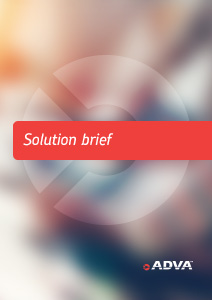 FSP 3000 OpenFabric™ traffic grooming solutions
Today's metro and aggregation networks are looking to grow capacity in a cost-effective way. To do this, they need to adopt higher wavelength speeds while also ensuring that they maintain low-speed services. This can be achieved efficiently using OTN switching technology to groom low-speed services onto high-speed wavelengths. But operators of metro infrastructure need an OTN switching solution designed to meet their specific network demands in terms of cost, size, flexibility and operational simplicity.
Our FSP 3000 OpenFabric™ Series is ideal for open metro and aggregation networks. It provides a compact and cost-efficient OTN grooming layer engineered to meet current and future demands. Its design concept is based on a single card with a fully open and flexible front plane with standard pluggable interfaces. This vendor-neutral architecture with no backplane connectivity restrictions enables the direct connection of client services in a pay-as-you-grow approach. Several card variants are available for 400Gbit/s or 1200Gbit/s interface capacity as well as the option of Layer 1 encryption.
Read more about our OpenFabric™ Series technology, including our OpenFabric1200™, the Terabit ADM on a card. With 1200Gbit/s interface capacity per card, multi-service support and two CFP2 coherent pluggable interfaces supporting up to 400Gbit/s, our OpenFabric1200™ is the simple way to upgrade metro and aggregation networks for the 400G era. Discover more about this innovative switchponder, which integrates DWDM and OTN switching technology on a card and supports OTN and Ethernet services from 10Gbit/s up to 400Gbit/s with a wide range of pluggable interfaces.