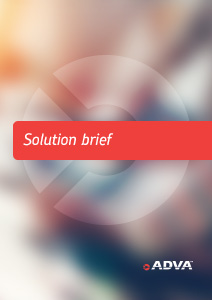 FSP 3000 for next-generation core networks
With an open hardware and software architecture, ADVA's FSP 3000 is the ideal solution for scalable and future-proof open optical networking in both turnkey as well as in multi-vendor scenarios. With high-resolution flexgrid ROADMs, it provides an open and programmable optical transport infrastructure for current and future coherent wavelengths. What's more, it enables users to maximize network capacity, spectral efficiency and minimize cost-per-bit.
The ADVA FSP 3000 OLS features an application-optimized, pay-as-you-grow design. It provides integrated monitoring and automation tools, which maximize performance, and minimize operational costs. And, by supporting innovative spectrum services, the ADVA FSP 3000 OLS enables operators to complement existing services with new revenue streams.
Read our solution brief to discover how the open and modular approach of our FSP 3000 gives you the tools to embrace OLS deployments today. Learn about its open architecture, integrated automation tools and OLS components that are designed to meet the most stringent core network demands. And see how it can help you move to an open future for optical networking.