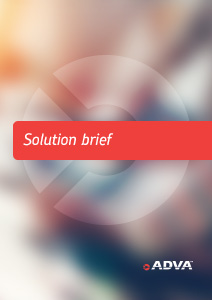 Distributed cell site gateway from ADVA and Edgecore
Tackling the bandwidth demands of 5G requires mobile network operators (MNOs) to rapidly grow their backhaul infrastructure to 100Gbit/s aggregated capacity. They also need a way to design and operate these higher-speed networks with proven technologies and established processes. At the same time, mobile networks much become more agile in order to unleash the power of 5G new radio.
With the latest SDN and NFV technologies, MNOs can build disaggregated radio architectures and leverage open, agile, and efficient mobile ecosystems. The key is a solution that combines the agility of software-based feature development with the performance and economics of bare-metal switches. That's what the disaggregated cell site gateway (DCSG) implementation from ADVA and Edgecore offers.
Discover how the ADVA and Edgecore joint solution delivers the agility and responsive capacity needed to meet the needs of 5G. Find out how our track record with providing carrier-class products to CSPs and MNOs is key. And read more about why ADVA and Edgecore are your ideal partners for DCSG success, breaking up single-vendor silos, reducing costs and enabling you to harness best-in-class technology.