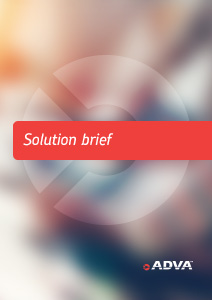 FSP 3000 ConnectGuard™ optical encryption
Today's fiber optic networks face a growing and constantly evolving threat from cybercrime and espionage. Cyberattacks, large or small scale, can cause serious damage to reputations, revenues and critical infrastructure, making implementation of robust, end-to-end encryption an urgent priority.
Our ConnectGuard™ optical encryption technology, available on our FSP 3000 platform, enables data to be transported securely with the highest performance and lowest cost. It provides Layer 1 encryption for the most robust protection available, alongside maximum efficiency and ultra-low latency at line speeds of up to 400Gbit/s.
Read how ConnectGuard™ optical integrates into existing KPI infrastructure, reducing operational complexity and cost. Discover how it complies with the most stringent security standards, and how our FSP 3000 is the world's first optical transport solution with post-quantum cryptography, protecting data against cyberattacks from quantum computers. For comprehensive protection, unparalleled efficiency and ease of use, there can be only one choice.