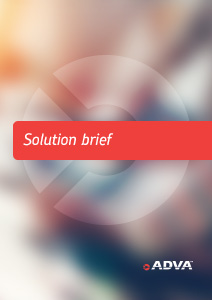 FSP 150 ConnectGuard™ Ethernet
In our globally connected world, cyberattacks have become a growing risk for service providers, enterprises and governments. Data transported over public networks must be protected to meet privacy and integrity requirements and to ensure compliance with existing and emerging regulation. Any security breach can be extremely harmful. The damage caused includes not only lost revenues, liabilities and fines but also the intangible cost of stolen intellectual property or ruined credibility.
Our FSP 150 ConnectGuard™ Ethernet provides a secure and robust solution to protect data transported over untrusted networks. Developed in compliance with most stringent security standards, such as the US FIPS 140-2, it can be deployed in point-to-point as well as in multi-point scenarios. And, as standard Carrier Ethernet interface technologies are applied, the security solution can easily be rolled out over legacy networks.
Read our solution brief to find out how our FSP 150 ConnectGuard™ Ethernet is designed to work efficiently and securely with third-party solutions. Discover how it uses public key infrastructure to reduce security risks associated with business processes and safeguards electronic data in strategic areas, such as healthcare, finance or national security. And learn how our FSP 150's automated processes make the operation of encrypted connectivity simple and cost-effective.