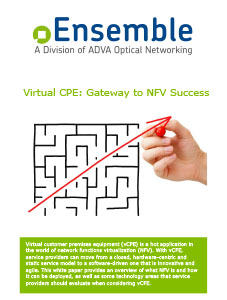 Virtual CPE: Gateway to NFV Success
Managed services for enterprises are the bread and butter of today's commercial offerings, from the standpoint of both revenue and profit. However, these services are not agile. They are built on equipment at the customer site or customer premises equipment (CPE). As a result, adding a new service or changing an existing service usually involves the dreaded "truck roll" and the dispatch of a technician, leading to cost and delays.
With NFV, communication service providers (CSPs) have a way to change this situation. They can replace stacks of hardware appliances with software running on standard servers. Implementing the virtual CPE (vCPE) use case opens the door to dynamic services that can be changed at the speed of software. CSPs can also offer micro cloud services, enhance security and meet stringent synchronization requirements.
This white paper provides an overview of vCPE, including the motivations, some key applications, technology considerations, and a pointer to additional resources. Now you can benefit from the lessons we've learned from our real-world experience with successful vCPE deployments. At the end, you should be ready to move into the exciting world of vCPE and its associated applications and services.