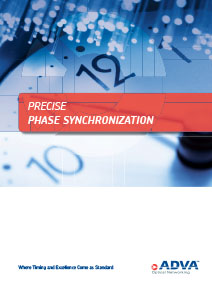 Precise Phase Synchronization
Today's mobile subscribers expect access to high-speed data and multimedia applications any time, any place. To satisfy this demand, reduce costs and improve operating efficiencies, mobile operators around the world are evolving their radio access networks. They need to squeeze more out of their macro cell networks, while also being free to scale rapidly in dense urban areas. Public access small cells have emerged as a cost-effective way to improve coverage and capacity of mobile services in such locations.
New LTE-A and 5G functionalities require base station clocks to be in phase with sub-microsecond accuracy to efficiently exploit the benefits of interference coordination and spectrum control techniques. However, distributing timing information for highly precise RAN phase synchronization is a major challenge. Mobile backhaul networks must actively contribute to timing distribution and provide on-path support in order to achieve accurate phase alignment. This is a new requirement and currently not supported by most backhaul network architectures.
Read more to learn how cutting-edge timing solutions can mitigate unpredictable, asymmetrical and highly variable delay in packet-based backhaul network to enable the precise phase synchronization necessary for 5G mobile connectivity. Find out about the role of on-path timing support. And discover how our technology with Syncjack™ timing assurance unites precise frequency, phase and time-of-day synchronization delivery and assurance under one umbrella.