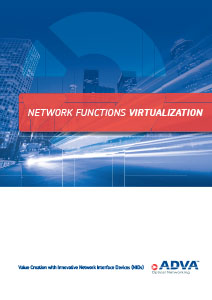 Network Functions Virtualization
The way communications service providers architect networks and deliver network services stands at a crossroads. Problems activating new services due to factors such as having to visit sites to configure hardware are a source of deep frustration and come at a significant financial cost to network operators. Now that the technology exists, evolution towards a more software-centric model is not only inevitable, it's essential for any operator wanting to remain competitive.
Virtualizing network functions enables far more network agility and flexibility. With network functions virtualization (NFV) operators can respond to customers' needs instantly from a single remote location, in a completely frictionless way. Expensive truck roll becomes a thing of the past as an NFV-centric network automates configuration, provides intelligent programmability and secures encryption of data in motion. NFV brings with it unprecedented agility and flexibility.
Now read our brochure to find out how network operators can dramatically reduce operation, administration and maintenance costs by utilizing NFV. Find out how no dedicated hardware is required with NFV, only standardized servers and software applications. And discover how an orderly and cost-effective migration to NFV can be achieved by using open software and open interfaces.