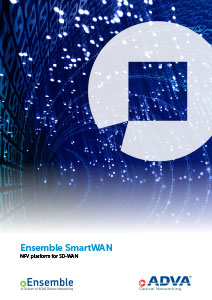 Ensemble SmartWAN
SD-WAN solutions presents enterprises with a compelling business case. They enable businesses to develop virtual private networks (VPNs) at more cost-effective price points than operator-managed MPLS VPNs. However, current SD-WAN technology comes with significant operational drawbacks. IT departments must handle the burden of all network management and today's SD-WANs are only offered as standalone systems. It's imperative that SD-WAN be part of an orchestrated, dynamic and virtualized service portfolio.
Ensemble SmartWAN is a solution that adds value for both enterprise users and telco operators. Built on the principles of NFV, including MANO functionality, it enables an open, virtualized networking platform. Businesses can deploy SD-WAN in an automated operation consistent with their forward-looking architectures. With this solution, users can be guaranteed new and more flexible VPN services, at a lower cost and with more innovative features than any other solution on offer in today's marketplace.
Discover more about Ensemble SmartWAN, our open, vendor-neutral platform that enhances SD-WAN solutions through streamlined zero-touch provisioning and management features. Featuring best-in-class, secure and performance-assured connectivity over Carrier Ethernet, MPLS and broadband networks, it eradicates the limitations and drawbacks of today's appliance-based offerings. Open, neutral and simple, Ensemble SmartWAN releases customers from vendor lock-in and offers real choice.