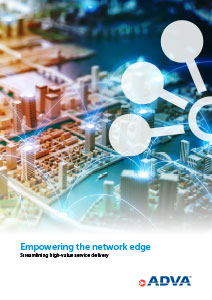 Empowering the network edge
Communication service providers (CSPs) are experiencing growing demand for high-value communication services that combine simple connectivity services with add-on capabilities such as security, IP OAM, MPLS support, timing delivery or virtual network function (VNF) hosting. Transforming those emerging business opportunities into profitable revenue streams depends on simple and easy-to-integrate network solutions.
At ADVA, we're helping our customers respond to this increasing demand with a unique family of network edge and aggregation devices. Our market-leading portfolio combines a comprehensive set of service capabilities with a common, open and programmatic management approach. Covering a wide range of connectivity technologies and transmission media, our products can support any business opportunity.
Discover what you could achieve with service-creating capabilities at the network edge. Edge hosting of VNFs enables the introduction of NFV, including vCPE. Encryption functionality at the edge can provide end-to-end security even across untrusted networks. What's more, timing at the edge extends the service portfolio with synchronization capabilities without having to upgrade the connectivity network. And these are just some of the benefits of edge-empowered service innovation.