The era of edge NFV devices
Communication service providers (CSPs) are on the cusp of a new era of business opportunity. Network functions virtualization (NFV) presents CSPs with an opportunity to rapidly expand the managed services they offer and swiftly develop new revenue streams. But to do this, they need to overcome a critical hurdle. They must ensure that virtual network functions (VNFs) can be created, operated and managed in a simple, open and reliable way. Hosting and performance assurance of software appliances requires a new generation of edge NFV devices.
Single-box solution
Our open platform enables cost-optimized VNF hosting as well as true multi-layer business service demarcation.
CSPs are able to host software appliances in the edge NFV device and directly monitor the performance of the application in the most comprehensive manner possible.
Pluggable server
This L2/L3 demarcation unit can be upgraded with an NFV server; choose the server capacity that best fits and upgrade later without replacing the base unit.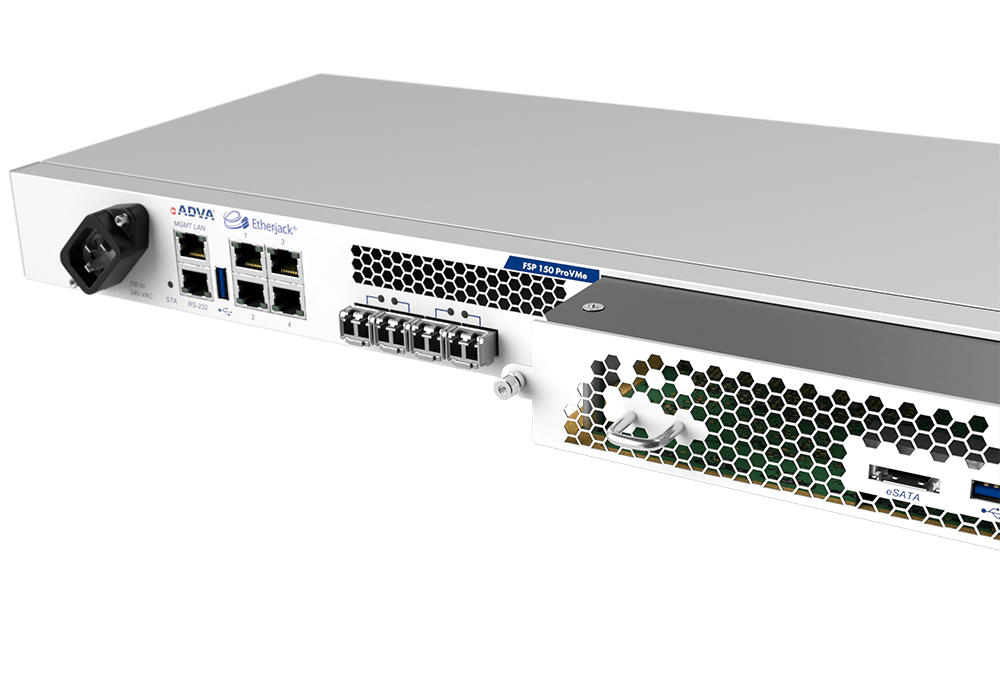 Hardware-accelerated edge computing
Our FSP 150 ProVMe Series represents a new era for the service edge. It combines multi-layer Carrier Ethernet 2.0 and IP demarcation with an internal server that can host virtual network applications. By uniting these capabilities in one single box, software appliances are able to offload compute-intense functions into hardware for enhanced performance and cost-efficiency. Server and software applications are monitored by a unique performance measurement solution. But what makes our edge NFV devices truly unique is their openness. They include standardized interfaces based on OpenStack and Netconf/YANG. A pluggable server variant enables CSPs to seamlessly grow their business from connectivity services to managed enterprise IT services.
End-to-end service assurance
Our FSP 150 ProVMe Series offers an intelligent IP service demarcation point compliant with the latest OAM standards.
Network security for NFV-centric environments
This enormous potential for CSPs to develop new revenue opportunities brings with it added security risks. Replacing dedicated hardware with standard network components and open-source software demands a new approach to network security. That's why our FSP 150 ProVMe devices include ConnectGuard™. This technology provides a key mix of security features that ensure network security and data protection. These include robust encryption, tamper resistance and network isolation with access control lists. Such levels of protection ensure that your network has never been more secure.
Network interface redundancy

Layer 2 traffic management

Layer 3 traffic management

Operation, administration and maintenance (OAM)

ConnectGuard™ Security (²,⁴)

Regulatory and standards compliance
Do you need more information?
Our team is ready to help
Contact