Ensuring SLAs, exceeding expectations
As well as ensuring optimum service availability, one of the key challenges for today's carriers is providing the data needed to verify service level agreements (SLAs). With comprehensive network monitoring, carriers can deliver highly reliable transport services as well as tailored SLA reporting to show precisely how customer demands are being met. Our Ensemble Portal gathers data from multiple technologies across the entire network, enables operators to instantly deal with issues, monitor network trends and improve service delivery.
Comprehensive monitoring and reporting
Over 100 key performance indicators (KPIs) monitored or computed; extensive graphical display and analysis options; customizable screen profiles, alerts and reporting with private branding options.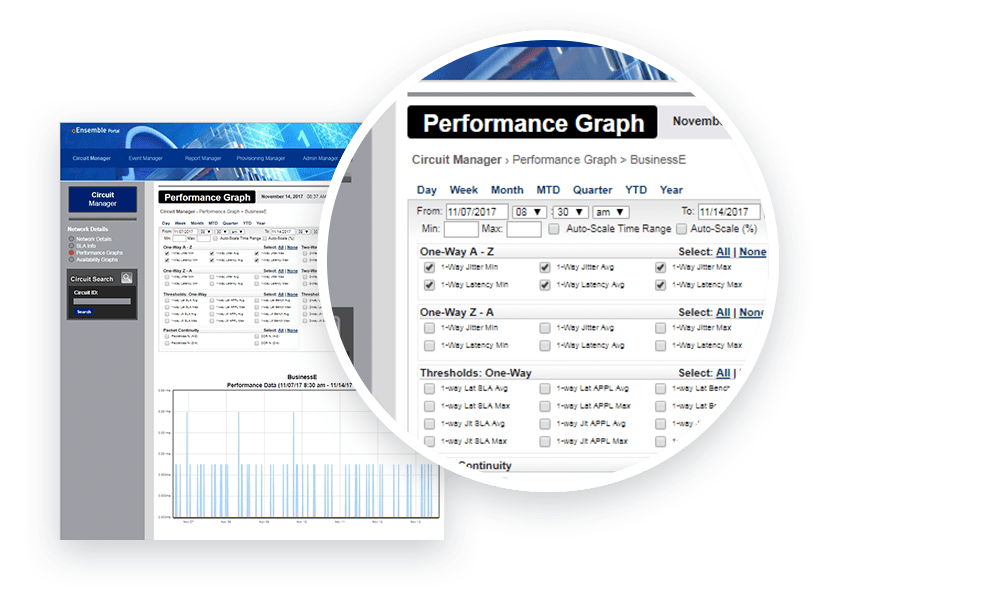 With our Ensemble Portal, you can focus on the areas that need attention before they impact on users.
Reduce trouble shooting and improve quality of experience (QoE)
Provide multiple customers with real-time access to their virtual network conditions.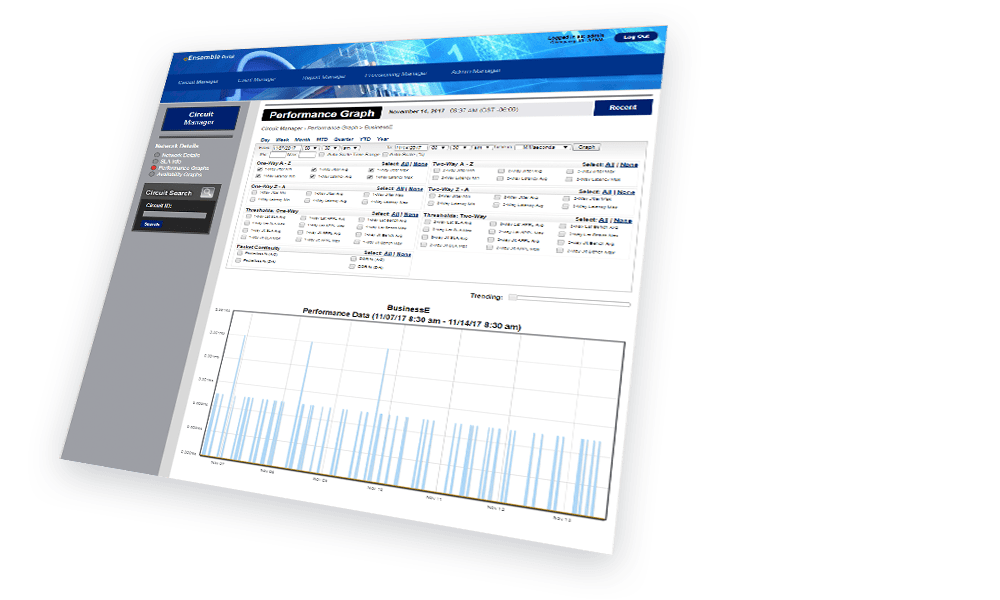 Comprehensive customized monitoring
Our Ensemble Portal monitors and reports on over 100 key performance indicators, for improved service delivery, reduced operating costs and enhanced user experience. Now any department and even your customers can benefit from real-time access to their virtual network conditions with data, displays and screen profiles customized for operators, management users and end customers. Our Ensemble Portal even provides secure access from anywhere and at any time via standard web browsers on any PC or smart device.
No need for on-premise investments
Web-hosted solution with no infrastructure investment or startup costs.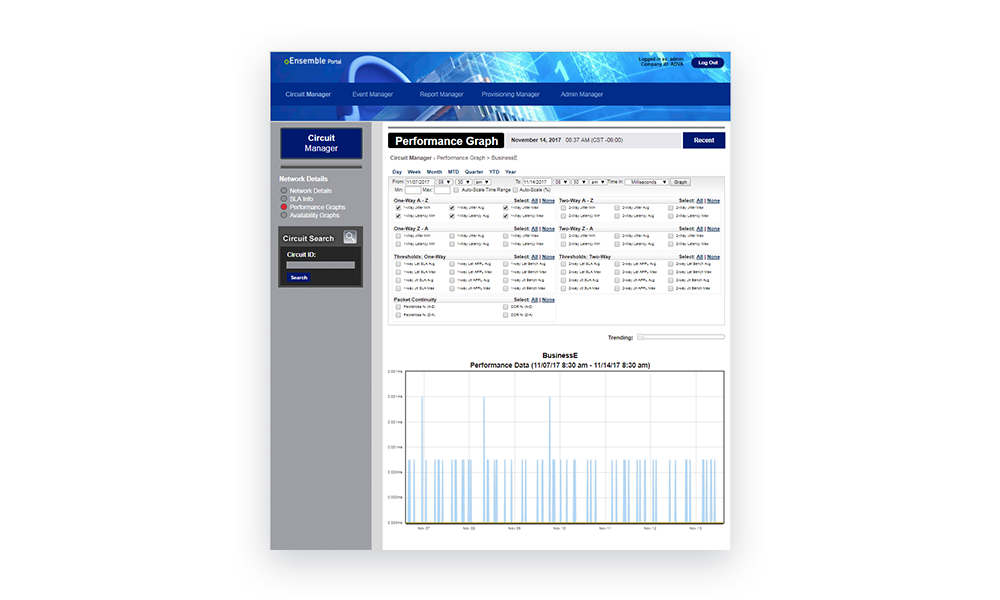 Enhancing customer experience
With our Ensemble Portal, you can focus on the areas that need attention before they impact on users. No longer is performance data locked in the network operations center. Now it's automatically summarized via actionable and concise dashboards and made available wherever it's needed in your organization as well as to multiple customers. This web-hosted solution needs no infrastructure investment or start-up costs. It's also available on a pay-as-you-grow model so you can start by monitoring the circuits that matter the most to your customers.
Circuit discovery and manual input

Carrier Ethernet SLA monitoring

Network domains and users

Notifications and event reporting

Maintenance window management

Data center hosting and security considerations

Multiple network technologies

Flexible licensing models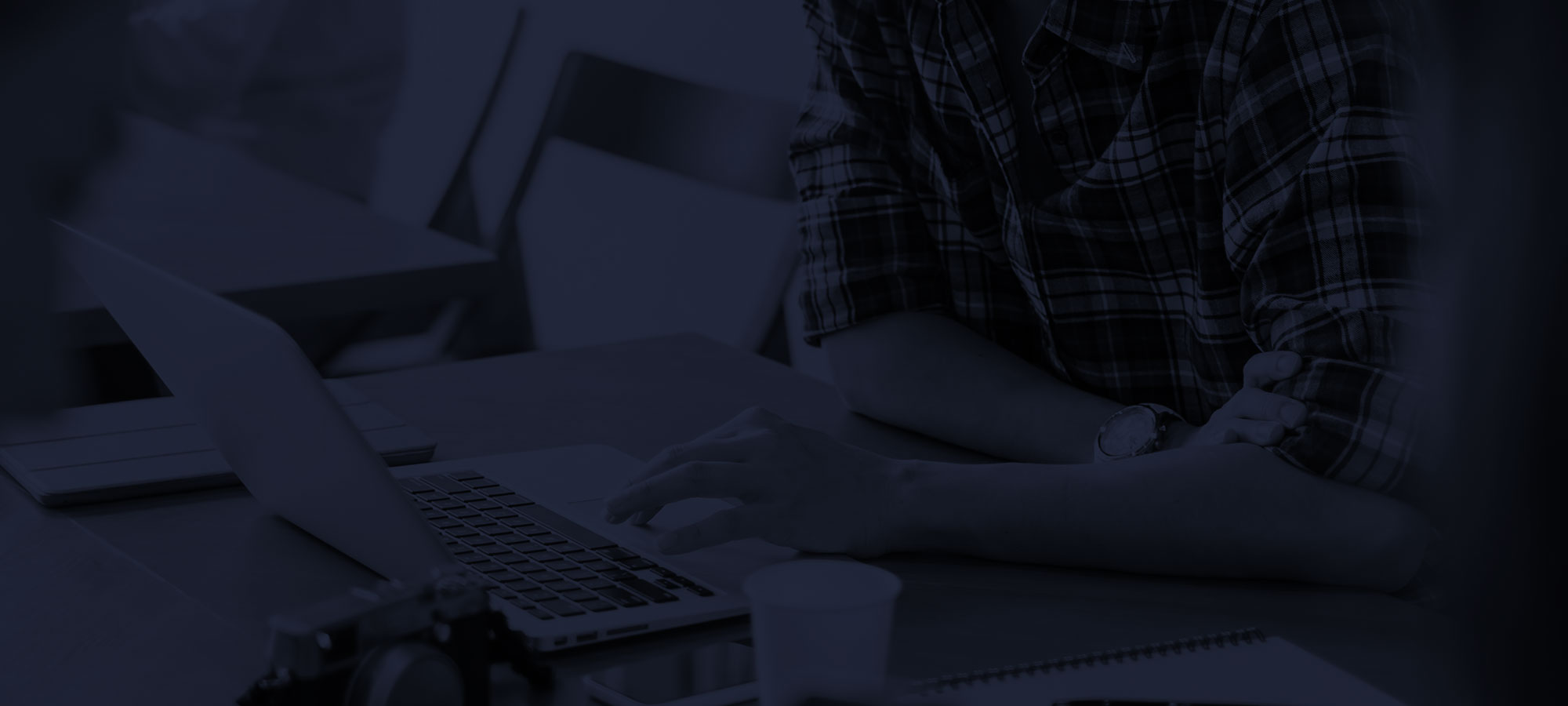 Do you need more information?
Our team is ready to help
Contact