800G adoption is ramping up
Coherent technology innovation has made it possible to transport 800Gbit/s per channel. This helps network operators to increase the capacity of their transport networks and meet ever-increasing traffic demands. However, with 95GBd solutions, the use of 800Gbit/s channels has been limited to short routes. On long routes, network operators have had to choose between using optical regeneration or decreasing channel speeds. Since optical regeneration has a significant impact on cost, reducing speed has usually been the preferred option. But now things are changing. Flexible coherent transport technology has emerged that offers fine granular modulation combined with a wider range of symbol (or baud) rates options. This gives operators a choice. They can choose an ultra-high baud rate for 800Gbit/s over long distances. Or they can minimize spectrum use by harnessing lower symbol rates when transmission paths allow. This ensures ultimate efficiency and highest performance from metro to long-haul networks.
Market's longest 800G reach
With its 140GBd sub-carrier technology, our TeraFlex™ CoreChannel™ ensures 800Gbit/s transport with highest efficiency, highest performance and lowest cost, achieving distances over 50% longer than 95GBd-based solutions.
With the FSP 3000 TeraFlex™ CoreChannel™ users can now transport data at 400Gbit/s or 800Gbit/s over longer distances than ever before.
From metro to long-haul
Compatible with existing and new network infrastructure, our CoreChannel™ sled enables customers to harness 800Gbit/s optical transport for a wide range of networks.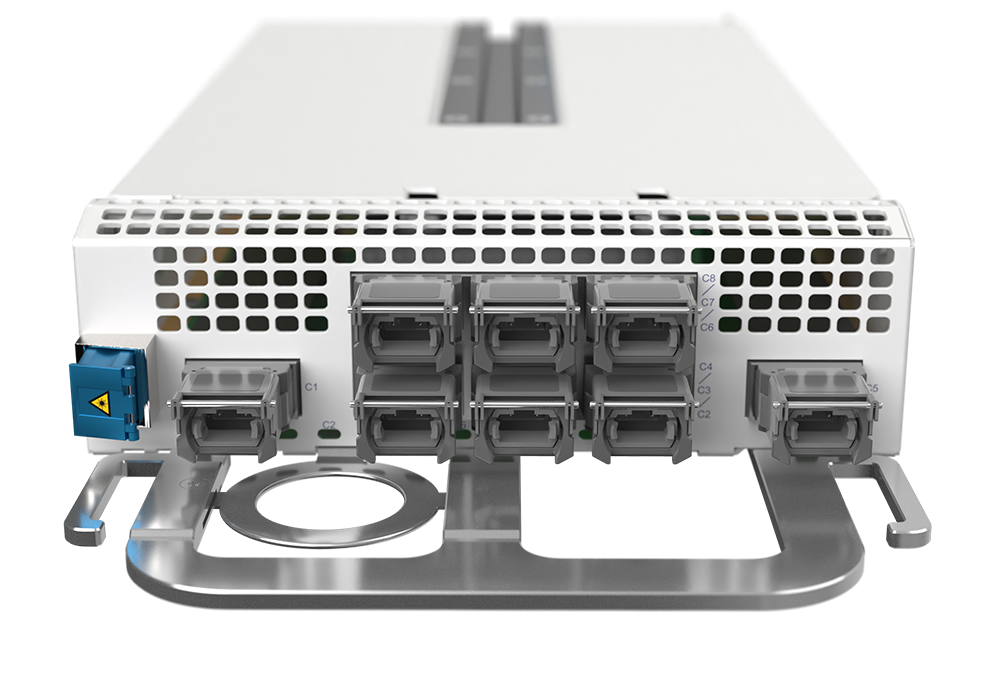 800G wavelengths with best performance
Our 800Gbit/s CoreChannel™ sled is specifically engineered for flexibility and ultimate efficiency. Its adaptive baud rate ensures that the minimal amount of spectrum is used. This is low when conditions allow. However, the CoreChannel sled's 140Gbd sub-carrier technology gives it the option to harness ultra-high baud rates and carry up to 800Gbit/s further than ever before. This provides over 50% reach improvements compared with 95GBd solutions. Operating at higher symbol rates at a given data rate permits the use of lower-order modulation formats, which strongly correlates with longer transparent reach. This avoids the need for regeneration on long-haul paths, which can otherwise add significant costs. For shorter spans, the high flexibility of the CoreChannel™ interface enables the symbol rate to be reduced. This facilitates the use of higher-order modulation formats, which maximize spectral efficiency.
Industry-leading SNR metrics
Long-haul transport with TeraFlex™ CoreChannel™ is even more efficient and reliable thanks to its superior signal-to-noise ratio requirements and higher network performance.
Smooth migration to 400GbE
With an ultra-flexible and programmable network interface, our TeraFlex™ CoreChannel™ supports multiple modulation formats and baud rates, as well as fractional QAM. This outstanding flexibility facilitates the optimal configuration for every light path, and therefore the minimum cost-per bit per kilometer for any type of network infrastructure. What's more, the CoreChannel™ sled can transport a flexible combination of 400GbE, 100GbE and 10GbE client services. This gives users unique client port flexibility and a seamless way to migrate to higher client speeds without having to replace equipment in the future.